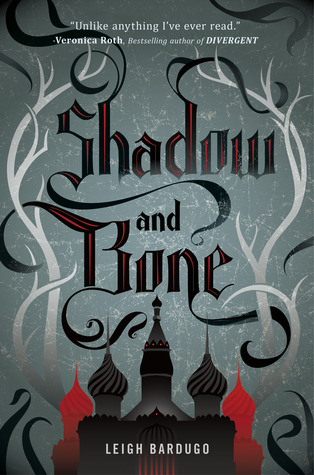 Summary:
Surrounded by enemies, the once-great nation of Ravka has been torn in two by the Shadow Fold, a swath of near impenetrable darkness crawling with monsters who feast on human flesh. Now its fate may rest on the shoulders of one lonely refugee.
Alina Starkov has never been good at anything. But when her regiment is attacked on the Fold and her best friend is brutally injured, Alina reveals a dormant power that saves his life—a power that could be the key to setting her war-ravaged country free. Wrenched from everything she knows, Alina is whisked away to the royal court to be trained as a member of the Grisha, the magical elite led by the mysterious Darkling.
Yet nothing in this lavish world is what it seems. With darkness looming and an entire kingdom depending on her untamed power, Alina will have to confront the secrets of the Grisha…and the secrets of her heart.
Review
:
Ravka is fun. 'Tis "the place to be." Even in the prologue, the fairy tail vibe of
Shadow and Bone
is what sucked me in. Leigh Bardugo's third person narrative in the prologue set up the base Alina and Mel's relationship well. They are the only two people who's got each other's backs in a world that isn't so friendly.
The magic of the
Shadow and Bone
is fresh; it's the best out of a fantasy novel I've read in a while. I love all the different tiers of Grisha, and the lore they have about "small magic" and especially the Shadow Fold's creepiness.
Mel, Alina's luuurve interest, started out okay. In the first half of the book, he never seemed to give a bother about Alina, and that bothered me. When they met up later in the book, he became one of my favorite characters. In the time they were apart, he had grown into a stronger person. He was sadder because he had lost so many friends, but he knew Alina was who he wanted which was a change from the first chapters.
Alina's character development was great, too. I love when at the beginning of the book, a character's really weak, but then they grow up and turn badass. Alina was pretty whiny at the beginning. I started wanting to slap her in her little pale, sallow face. I get it, Alina. You're ugly as a walrus. An ugly walrus. There is nothing wrong with that. She, thankfully, stopped complaining eventually... but that was because she transformed into a pretty person.
A lot of emphasis in the book was placed on beauty. Alina's main argument for why she couldn't be an actual Grisha was because she was ugly. I can understand not liking your looks, but by the fifth time she complained about it I was getting exasperated.
Shadow and Bone
gets
four stars
. Despite me hating on Alina's sulky attitude, the book kept me interested enough to read it in two days. I may pick up the sequel, but I'll get it only in paperback form.